Fluffy Pancakes - Vegan & Gluten Free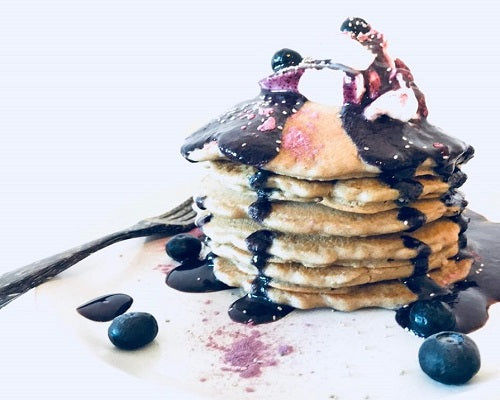 Fluffy Vegan Pancakes
GF | V | RSF 

When you've got that Sunday pancake craving, and want to keep it nourishing.. these light and fluffy egg-free pancakes with prebiotic teff flour will tempt your taste buds with guilt free delight. 
We've topped ours with blueberry coolie, made easy peasy with pure blueberries (fresh or frozen), and made it lush with coconut yoghurt with vegan prebiotic cultures.
Get creative with your favourite toppings! 


This batter will be much thicker than a traditional pancake mix, giving it a decadent fluffiness. If you prefer a thinner pancake, simply add a touch more dairy-free milk.
Enjoy!
---
Recipe:

Ingredients:
Blueberry Coulie 
1 cup frozen Blueberries
1/2 cup boiling water. 

Method:
1. Whisk all dry ingredients in a large bowl until well blended
2. Make a well and slowly work in milk 
3. melt dairy-free butter and coconut oil and add to batter along with maple and vanilla extract if using. 
4. Heat skillet to medium heat (too hot and center will be uncooked)
5. Pre-oil pan with a small amount of coconut or grape seed oil.
6. Spoon 1/2 cup of batter quickly for each pancake.
7. When several bubbles appear, turn your pancake and allow to cook on the reverse for approximately 30-60 seconds until cooked through. 

 

 Pour over blueberry coulis, and serve with coconut yoghurt or your other favourite toppings. Devour!

Makes 8 pancakes (halve measurements for a smaller serve).