Fudgy Cacao Brownies - GF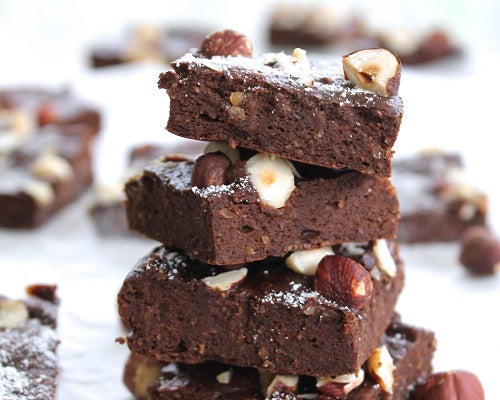 Easy Blender Brownies 

We love when perfect deliciousness comes together with healthy clean treats.

This gorgeous fudgy brownie recipe is gluten free, low sugar and contains a sneaky ingredient to make them moist and scrumptious. 
Developed by nutritionist Casey-Lee Lyons, you can enjoy these gorgeously easy and divine brownies without the guilts!

They're soft and fudgey healthy chocolate brownies are made with ingredients to nourish, including hidden avocado.

Note: This recipe is free from gluten, grains, dairy and refined sugar.
Prep Time: 15
Cooking Time: 20
Servings: 12


Ingredients
3 large free range eggs
1/2 cup (100g) ripe avocado, chopped
1/3 cup pure maple syrup
1/4 cup melted organic coconut oil
1/2 cup almond meal
1/3 cup raw cacao powder
1 tsp vanilla bean powder
1/2 tsp gluten free baking powder
1/4 cup chopped nuts of your choice

Method:
1. Pre-heat your fan-forced oven to 170°C.
2. In your blender add all of your ingredients (except the nuts for topping). Add wet ingredients in first.
3. Blend at low speed until smooth and well combined.
4. Pour brownie batter into a small, square cake tin lined with baking paper.
5. Sprinkle with chopped nuts.
6. Bake in oven for 20 - 25 minutes.
7. Allow to cool before slicing into squares.


Recipe by nutritionist Casey-Lee Lyons from Live Love Nourish.