Chocolate & Raspberry Muffins | GF | DF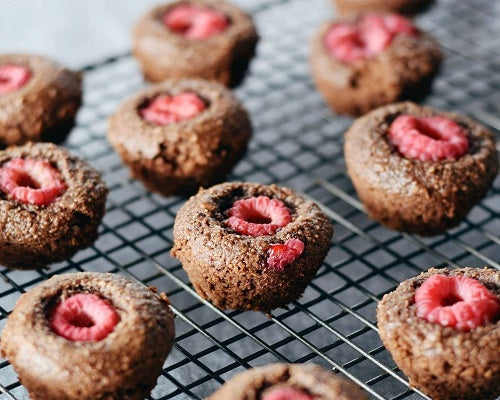 Chocolate & Raspberry Muffins
These . 
With nourishing almond meal and cacao, and the tangy goodness of raspberries, these delightful mini muffins are a celebration of the marriage of chocolate and raspberry in a gloriously good-for-you bite. 
This easy, gluten free and refined sugar free recipe is by the queen of clean Janessa Rutter. 

Ingredients
1 & 1/2 cups almond meal
1/3 cup cacao powder
1 tsp gluten free baking powder
2 eggs
1/4 cup pure harvest almond milk
2 tbsp pure harvest rice malt syrup
1 punnet raspberries



Method
Preheat oven to 160°c and grease 24 hole mini muffin tray.
Combine almond meal, cacao powder and baking powder in a large mixing bowl and create a well in the centre. Add the eggs, almond milk and rice malt syrup into the well then mix well to combine.
Spoon mixture into muffin tins filling half way and then push a raspberry into the centre of each muffin.
Bake for 10 minutes until cooked through - make sure not to overcook (your skewer can come out slightly dirty when testing) as it will make the muffins tough! **Note - if you use a 12 hole mini muffin tin, cook for 15 minutes** Enjoy.
By Janessa Rutter of Gluten Free Sugar Free and Bask & Co