Double Chocolate Buckwheat Cookies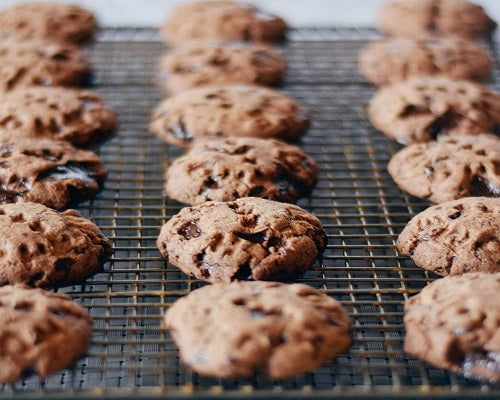 Double Chocolate Buckwheat Cookies
Is there anyone who doesn't love an oozy chocolate chip cookie. 
These rich and decadent cookies are made with nourishing buckwheat, free of gluten and refined sugars. 

We hope you'll find these beauties a welcome addition to your clean-treats repertoire by the queen of delicious Janessa Rutter. 


Ingredients


1 1/2 cup buckwheat flour
1 tsp gluten free baking powder
1/4 cup cacao powder
Pinch of Himalayan Pink salt
1 tbsp vanilla extract
½ cup melted organic tasteless coconut oil
1/3 cup brown rice syrup
1 egg
100 g 85% dark chocolate, chopped or 100g of Vegan dark chocolate kibble 


Method
Preheat oven to 160°C and line two baking sheets with baking paper.
Combine buckwheat flour, baking powder, cacao powder and salt in a large bowl. In a small bowl mix coconut oil and rice malt syrup until combined. Add egg and beat again until mixture is combined.
Add wet mixture to dry ingredients and stir with a wooden spoon. Fold through chopped chocolate. Spoon tablespoonfuls of the mixture into balls and place on the lined trays (makes approx 18 cookies) press down slightly to flatten as they will not spread much.
Bake for 15-20 minutes until they don't squish when pressed. Transfer to a wire rack to cool. Store in an airtight container.
Recipe by Janessa Rutter of Gluten Free Sugar Free and  Bask & Co