Nutty Choc Granola - GF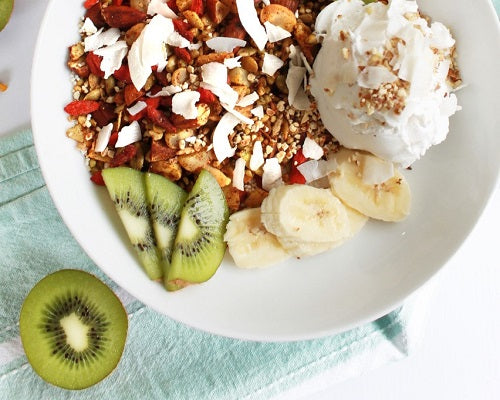 Nutty Choc Granola 
This wonderfully nutty, toasty gluten free granola is a delicious blend of nuts, seeds, coconut and cacao for a nutritious breakfast that is high in protein & good fats.
Keeping you fuller longer, and helping to curb those sweet cravings with a healthier low-GI blend that satisfies.
Make it paleo and keto-friendly by simply omitting the buckini's. 
Add your favourite nut-milk and enjoy!

👉🏻RECIPE
.
Ingredients:
3 cups mixed raw nuts of your choice
3/4 cup organic coconut flakes 
1/2 cup pepitas 
1/2 sunflower kernels 
1/2 cup buckinis 
2 Tbsp chia seeds
2 Tbsp coconut oil, melted
1-2 Tbsp brown rice syrup
1 tsp vanilla extract
2 Tbsp cacao powder
1/4 cup cacao nibs

Method
 
1. Roughly chop mixed whole nuts or pulse in a blender  2. In a bowl combine nuts, coconut, macadamia pieces, pepitas, sunflower kernels, buckinis & chia seeds.
3. Pour in coconut oil, syrup, vanilla & cacao. Combine. 
4. Spread evenly onto large, lined baking tray & toast in oven for 10-12 minutes. Mix around after half way. 
5. Allow to completely cool, stir though cacao nibs. 
6. Transfer granola to an air tight glass container to keep fresh! 
Tip - You can also mix through goji berries, dates or other dried fruit. .
This recipe was lovingly developed for us by the goddess of gluten free nutrition, Casey-Lee Lyons of Live Love Nourish